Free PHP Guestbook script news: new FREE and enhanced versions released!
We are working on updates, downloads are temporarily suspended
New great features in these php guestbook versions:
Unlike most other guestbook scripts around that act as self-standing entities, our software will integrate into your existing web site and add interactivity to

your own html pages

Should one day PHP become obsolete, you will still be left with great static permanent content for your website, instead of ending up with a bunch of unusable software and unreadable database files

The

captcha security image

is now incorporated on the posting form itself however...
Spam bots are becoming increasingly good in reading the captcha images, so alongside captcha your guestbook

is now also protected by an original javascript/ajax anti-spam solution

, opening the path to excellent guestbook security without captchas. Test it here (for now in the free and enhanced versions only). You can individually enable/disable the captcha verification and ajax-based verification in administration, for great flexibility. This is something you will very hardly find (if at all) in similar softwares

GeoIp!

When used in conjunction with the software77.net IP to country database, released under GPL (free for you to use), the php guestbook script is now aware of the poster's country, based on his IP address. This allows to ban entire countries from posting as an additional tool to control guestbook spam and the integrity of your php guestbook. Also, you will know from which country your visitors are posting. For now in the free and enhanced versions only. You will need to download a database file from software77.net to have this working, see the readme file. You can also download the file from here although it will not be the very latest version, we suggest you go to software77.net to get the last version

Better compliance with HTML4 and CSS

Better security and control of what is posted

New default template, easy to customize by just editing a CSS file

The free version now includes pagination, reserved name for admin posts, posts editing and private e-mail and messages!!!!

The enhanced version features the posts moderation mode (can be switched on/off in admin) and allows you to avoid linking back to us

The free version is fully functional, with no limitations, except that it requires a link back to us and does not feature the moderation mode

Beginners and experienced webmasters will appreciate the level of control they will be able to exert on any individual guestbook feature and on the outputted code, all from an easy web-based administration interface

Let us know what you think on the forum
Features list, compare with our other scripts
The Easy and free PHP HTML comments software for your website - Hundreds of happy users worldwide!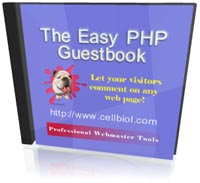 Let your visitors comment on your html pages! The Free PHP Guestbook script is a simple
FREE
yet powerful php comments guestbook script with multiple advanced anti-spam features, that can turn any one of your existing html pages into a spam free html guestbook, where your website visitors can leave their own comments. You can also easily use the provided template to build a website guestbook from scratch.
An enhanced version is also available with many useful additional features.
If you want your visitors to comment on your photos, articles games, videos, or any other content on an unlimited number of pages, from a central script, check out the just released
HTML Website Comments System
®.
PHP Guestbook scripts features
Unlike other guestbook and comments scripts, all our scripts are designed to let your visitors comment/leave a message on any
EXISTING
html page on your website by simply adding a snippet of code to the page. This makes it extremely easy to build a guestbook/add comment feature that merges perfectly with your web site style, design and graphic layout. With the free and enhaced versions you can also use the provided template as it is, or modify it, to create a guestbook section on your web site ex-novo.
All our scripts come with strong anti-spam features that nowadays are a must for any website/page that allows users to post data. In the absence of such anti-spam features, any interactive page is bound to become full of junk/spam messages in a short period of time. The spammers use automated posting systems (bots) that are efficently blocked by our image verification system.
Visitors can leave their name, e-mail (optional) and a message. This information will be posted to the guestbook together with date and time of posting. All posts details are logged in a log file, including the poster's IP address (not visible to the public). The administrator is notified of new posts by an e-mail that contains all the details, including the posted message.
The administrator can access a password protected admin section.
Free Version vs Enhanced Version vs Website Comments System
The free version is not a demo, it is a popular, fully functional software currently in use on hundreds of websites worldwide. The free version has no compromises on security and features all the anti-spam features also found on the enhanced version except the posts moderation mode. The admin section of the free version allows guestbook configuration and the editing or deletion of selected messages. No ads whatsoever, as in the other versions. The only requirement is a link back to this page

As the name implies, the software is entirely free - Download now


The enhanced version feature posts moderation mode and gives you the freedom to avoid to link back to us from the guestbook page. It is otherwise very much the same code as the free version. You can get direct e-mail support from the developer with this version only See the features comparison table below for details.

A 10$ donation is required to download this software - Download now


The HTML Website Comments System is a sophisticated script that allows you to easily plugin comments to any page of an existing html/static website. Great if you have galleries of images, software collections, articles, games, movies, or any kind of content on which you wish your visitors to comment. There is no limit to the number of pages you can have visitors comment on, while controlling everything from a single, central script.

This leaves you the freedom to build your website the traditional, easy and solid way: HTML. Use your favorite web editor, such as dreamweawer or frontpage to build your site, and then plugin the interactivity of a blogging system with our Website PHP Comments System. In the Website Comments System admin section you can configure the system, set global variables, set the default configuration for the new guestooks, create an unlimited number of guestbooks (that is adding comments feature to any number of html pages on your website), edit/block/delete guestbooks, edit/approve/delete the posts in any guestbook.

A 20$ donation is required to download this software - Download now

The WCS is easy and intuitive to setup and use. If however all you need is a one page guestbook or adding comments to just one page, it is probably more convenient to go with the free or enhanced guestbook versions as these will allow a more immediate setup. On the other hand, if you plan to have visitors comment on several pages, the central control, additional features and increased flexibility provided by the WCS can't be beated.
Features Comparison Table
| FEATURES | Free | Enhanced | WCS |
| --- | --- | --- | --- |
| Flatfile-based, no MySql or other databases required | | | |
| Possibility to edit or delete messages through a dedicated admin section | | | |
| IP blacklist (IP filtering/banning) | | | |
| Words-strings-HTML tags blacklist (security and spam filtering) | | | |
| CAPTCHA Image verification security code to stop spam bots. A real Turing Test that discriminates humans from bots. Together with the keywords-based filter, this is an amazing tool to keep your guestbook spam-free. | | | |
| Ajax-based posting form security. For now proposed alongside captcha, actually allows guestbook security without captcha | | | - |
| E-mail sent to admin on post with full post details | | | |
| Full posts log including poster's IP addresses | | | |
| Easy to customize the look of the posts thanks to the embedded template so as to cleanly integrate the posts area in your own web site layout (some html knowledge required for this) | | | |
| Configure the guestbook through a friendly online interface in the password-protected Admin section | | | |
| Easily set a time offset for the posts, so that the guestbook time reflects your local time | | | |
| Private e-mail: users can now decide to hide the e-mail from public view | | | |
| Private posts: users can now decide to make the message visible by the admin only | | | |
| Online support through the forum | | | |
| Dedicated, accurate, fast, friendly e-mail support directly from the developer | - | | |
| Password-protected admin identity. You will be the only one able to post on your board with your name | | | |
| Avoid to link back to this page from your static pages | - | | |
| Post moderation mode. This can be turned on in the online admin section. Under this mode each message is reviewed by admin before actually being posted to the guestbook | - | | |
| Bulk delete. Delete several messages at once, handy for keeping busy guestbooks clean and tidy | - | | - |
| Pagination: set the number of posts per page and let the guestbook create and update the new pages when a post is made | | | |
| Pagination: the pages created by the script beyond the first one automatically inherit the header and footer of your first page | | | - |
| Pagination: possibility to customize the header and footer of the pages created beyond the first one | - | - | |
| Plugin interactivity to your whole html or static website. Add comments features to an unlimited number of pages, customize each page/guestbook with it's own settings, look and feel, delete/edit/approve posts for all the pages from a single centralized comments system entirely managed on your own web site with an easy and intuitive online interface. | - | - | |
PHP Guestbook home | Guestbook (test/questions/feedback) | Download | Help/Support | Fighting guestbook spam | Requirements | Terms & Conditions
---
Powered by The Easy PHP Guestbook - © cellbiol.com